Please choose a product to add to your basket…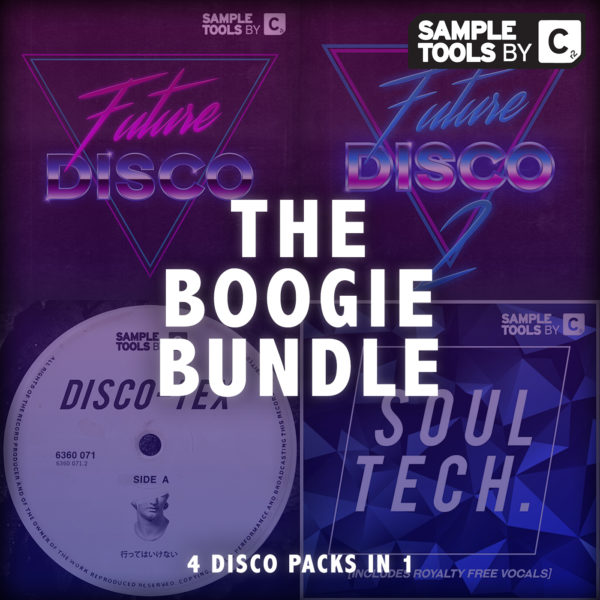 BOOGIE BUNDLE [LIMITED TIME OFFER]
£

63.96
Add to basket

For a limited time only grab these four Disco packs for a discounted price, and boogie on through 2020!

– Full product description further down the page – 
Demo tracks
What you get
Total Size: 1.93 GB
Total Audio Files: 1150
Total MIDI Files: 168
FUTURE DISCO
10 x Bass Loops
10 x Claps
10 x Hats
10 x Kicks
10 x Percs
10 x Snares
95 x Drum Loops
10 x FX
20 x Guitar Loops
20 x NI Massive Presets
20 x Synth / Piano Loops
27 x MIDI Files (Corresponding w/ Bass and Synth Loops)
3 x Songstarters (77 Audio Files + 11 MIDI Files)
3 x Prod-Cast Video Tutorials
1 x Mike Monday Studio Productivity Video
1 x Budi Voogt Art of Pitching Video
1 x Production Booklet (Containing Tips & Tricks from the producer)
FUTURE DISCO 2
10 x Bass Loops
10 x Claps
10 x Hats
10 x Kicks
10 x Percs
10 x Snares
30 x Drum Loops
10 x FX
4 x Guitar Loops
15 x Melodic Loops
3 x Songstarters
DISCO TEX
20 x Bass Loops (Key + BPM Labeled)
20 x Bass MIDI
10 x Disco Loops (Key +BPM Labeled)
20 x Hats
20 x Kicks
20 x Percussion
20 x Snares
60 x Drum Loops (BPM Labeled)
10 x FX
66 x Guitar Loops (23 x Processed + 23 x Clean) (Key + BPM Labeled)
6 x Songstarters (73 x Audio Files + 17 MIDI Files) (Key + BPM Labeled)
3 x Prod-Cast Video Tutorials
1 x Mike Monday Studio Productivity Video
1 x Budi Voogt Art of Pitching Video
1 x Production Booklet (Containing Tips & Tricks from the producer)
SOUL-TECH
 10 x Atmospheric Loops (BPM Labelled)
 39 x Bass Loops (Key+BPM Labelled)
 20 x Hi Hats
 20 x Kicks (Key Labelled)
 20 x Percussion
 20 x Snares/Claps
 80 x Drum Loops (BPM Labelled)
 10 x FX (BPM Labelled)
 10 Percussion Loops
 30 x Synth Loops (Key+BPM Labelled)
 10 x Vocal Loops (Key+BPM Labelled)
 5 x Songstarters (Key+BPM Labelled)
 3 x Prod-Cast Video Tutorials
 1 x Production Booklet
BOOGIE BUNDLE [LIMITED TIME OFFER]
£

63.96
Add to basket

For a limited time only grab these four Disco packs for a discounted price, and boogie on through 2020!

– Full product description further down the page – 
Product Description
Due to popular demand, we've extended our Boogie Bundle offer by one more week! For this very special limited time offer we've selected four of our most popular Disco sample packs. Grab your copy now before the 8th of March and boogie on through 2020!
All four packs for only £24.99 (regular price 63.96)!
Boogie Bundle offer ends Sunday March 8th 2020
PLATINUM PRODUCER MEMBERSHIP
We introduce to you – the Platinum Producer Membership – a monthly subscription service giving you access to absolutely everything in our catalogue – more than 100,000+ sounds, as well as exclusive content from established artists. Find out more here and start your 10-day free trial now!
CR2 MASTERING & MIXING SERVICES
Would you like to have your track mastered? We offer mastering and mixing services by our in-house mastering engineer who has 14 years experience in the industry. He's released on labels such as Virgin EMI, Atlantic records, Sony, Cr2 Records amongst others, and he's mixed music for Netflix TV shows and mastered tracks for clients such as Nile Rodgers, Second City, Dillon Francis, Snoop Dogg and Eats Everything.
Check out our services here: Mastering by Cr2
Home   –   News   –   Cr2 Records