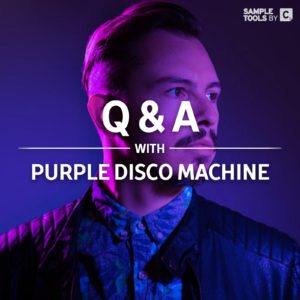 To follow up the release of Purple Disco Machine's first sample pack, we've done an exclusive Q&A with the man himself. You can check out the pack here: Purple Disco Machine Vol. 1
1. What steps did you take to promote yourself as a DJ to get gigs, as well as promoting your own music?
I started 20 years ago and learned it old school. I made a couple of tapes and sent them to all the promoters in my town. Went to the clubs, gave them my tapes, introduced myself and never heard back most of the time. But, one of them really liked the music and style and invited me to play. I played the first month for free, but this was fine because I could practice my skills and learn to read the crowd.
2. What would you say is your biggest musical inspiration?
I take a lot of my music inspiration from Disco, Funk and Soul. But, also listen to hip-hop and sometimes rock as long as it's not too heavy or trashy – but I am a huge fan of Phil Collins, so he is probably one of my biggest inspirations.
3. How do you start a track?
There's no secret behind how I start a song. Sometimes I use a sample, taking a section of a song I like and putting beats and keys behind it – I can then also take the sample away and it becomes a completely different song. If I don't work with samples, I just start with a beat then bring in the bass to find a groove and then I can start playing keys and buildup from there. Sometimes I just jam and collect ideas. There are different ways to how I produce a track.
4. What are your top 3 favourite songs of all time and why?
It's not easy to pick songs, so I would rather pick albums but even then it's hard to pick three. Number one would be the debut album of Prince "For You", which came out around 78/79 although I discovered the album in the mid 90's. The reason why this album is so special is that I was so impressed that he sang and played every single instrument on it. He was only 16/17 so he was obviously a very talented guy. To write everything by yourself is amazing.
The second would be Daft Punk "Homework". When I heard the album for the first time I was at school and a classmate played it to me and I couldn't even tell what genre it was… It was Techno, it was Acid, it was Disco, it was Funk. It had all the elements I liked and was a perfect mix. The new way of sampling music also impressed me.
The third one would be pretty much everything from Phil Collins, but if I had to pick one I would say "Face Value" because "In the air tonight" is on it and it is one of my all-time favourite songs. I've seen Phil Collins live when I was 16/17 years old and I still remember the moment when he played "In the air tonight" and It still gives me goosebumps. After this show, I listened to the whole album for three years in a row. This is probably the most played album in my life.
5. What would be your biggest piece of general advice to an aspiring DJ/Producer?
I've been doing music for 25 years now and it's been like a rollercoaster. I've had many good moments but also had many poor years without any sense, but I never lost the passion for the music. My advice would be to just stick with your passion and what you love. In my life I had a lot of friends that would say "If you want to be successful you will have to go more "Techy" or "Minimal" but I could never do it. If I tried to produce a Techno song it would turn into a typical House track, which is why I gave up trying to pretend to be someone else and I just followed my heart and did the music I really liked. It paid off in the end, which of course I am happy about, but it takes a while… Just never stop dreaming! Peace
__________________________________________________________________________
PLATINUM PRODUCER MEMBERSHIP
We introduce to you – the Platinum Producer Membership – a monthly subscription service giving you access to absolutely everything in our catalogue – more than 100,000+ sounds, as well as exclusive content from established artists. Find out more here and start your 10-day free trial now!
CR2 MASTERING & MIXING SERVICES
Would you like to have your track mastered? We offer mastering and mixing services by our in-house mastering engineer who has 14 years experience in the industry. He's released on labels such as Virgin EMI, Atlantic records, Sony, Cr2 Records amongst others, and he's mixed music for Netflix TV shows and mastered tracks for clients such as Nile Rodgers, Second City, Dillon Francis, Snoop Dogg and Eats Everything.
Check out our services here: Mastering by Cr2
Home   –   News   –   Cr2 Records